A place that defines the culture at a whole new level, a place that hosts pure historical architectures, a place that lets you connect to the past, a place called canal city, a place which every traveler dreams of visiting. Yes, you guessed it right. It's Venice, a historical beauty of Italy that includes 141 churches, untainted museums, jaw-dropping canals, 417 mind-blowing bridges, Gondolas and attracts millions of visitors every year. By now, you may also have planned a trip to Venice but wait, Read this Venice Travel Guide before you plan further.
Best time to visit Venice
You cannot just visit any time of the year unless you want your vacation to be ruined. Yes, there is a time period which can help you enjoy your visit to Venice the most. December and January are considered the best time to visit Venice. The Average Temperature is 37 F, the city is Quite, and visitors will be in very fewer numbers. The months of April to June and September to October are also great to visit Venice, but make sure you don't visit Venice in August. August is considered the worst time to visit Venice. It's crowded with tourists, the heat is extreme, and the average temperature is 73F. The heat brings in mosquitoes and awful smell from the sewers along with it.
How to get there?
Reaching Venice is not as normal as reaching anywhere in the world. As it's a Canal city you would find it hard to get road-based transportation, still, I've got you the best ways to get you to Venice as soon as possible.
By Train
1) Santa Lucia Train Station: It's a terminal of major trains that arrive in Venice from the rest of the country. Located in the lagoon, built during World War 2, this station itself can give a glimpse of the historic architecture this city possesses. With more than 400 train routes daily, this station welcomes more than 30 million passengers every year.
2) Mestre Station: Mestre Station, also known as Ferrovia Venezia Mestre is located in Mainland Italy. Receiving around 500 Trains daily, it transmits more than 10 million passengers every year.
By Flight
1) Marco Polo International Airport: Located in mainland Italy, this Airport was named after a Venetian explorer Marco Polo. It's considered one of the largest and busiest airports of Italy. It is served by major airline companies including Lufthansa, British Airways, U.S. Airways, Emirates, and Alitalia.
2) Treviso Airport: Treviso Airport is considered the best alternative option to use in case if you can't get a flight to Marco Polo. If you are a budget traveller and don't want to waste money on luxurious overpriced airlines, then this airport is the most ideal option for you as it is served by low-cost airline companies like German wings, Transavia, Ryanair, etc.
By Car
It may sound like your dream of a most beautiful road trip to Venice, but it isn't *heart-broken* as motorized road transportation is not allowed in Venice. So visiting Venice in a car can spoil your vacation. Still, if you want to drive all the way, must have a second thought after reading this:
You must leave your vehicle in one of the parking lots knotted in the Piazzale Roma before settling in Lagoon.
The Parking spaces will cost you 10s of euros a day.
To reach Piazzale Roma, you will need to cross the bridge named Ponte Della Liberta, which is an extension of Via Della Liberta originating from Autostrada Padova-Venezia
By Bus
If you want to travel by bus even though motorized transportation is forbidden, reaching La Serenissima can be possible actually. But yeah consider that the main bus station is in Piazzale Roma and you will have to find other means of transportation to explore the city deeply. Hence, you can consider reaching to Venice via bus but only as a last possible option.
By Sea
The city comprises Port of Venice which is the largest marina in the Mediterranean Sea if you consider shipping and passenger transport. The port serves Ferry boats, Cruises, and High-Speed boats.
How to travel in Venice
Now that you've reached Venice you need to know what will be the best measures to travel in and around the city. As Venice is a canal-filled city, the main mode of transportation is waterways. Thus to roam around the city you will have to opt for different ways of water transportation like Vaporetti, Gondolas, Water taxis, etc.
Water busses Named Vaporetti or Vaporetto (singular) cruises in the Grand Canal and have many stops en-route. A single trip can cost you $8.6 but if you take a 24-hour card, it will cost you $23
There are public Gondolas which cruises along the canal give you more historic feels. The single gondolas crossing can cost you up to $2.3 to $90 for an hour. The payment has to be made in Cash to Gondolier.
Water Taxis are available, but they are only for those who are not on budget as the fairs of water taxis start from $60/ride whereas a ride from the Airport in Water bus will cost you $15.5.
You can also opt walking for most of Venice and use footbridges to cross canals
Best Places to visit in Venice
Venice, a city of tourist attractions where you can find something worth remembering even at the streets, passages, and canals, It can be difficult for you to decide from where to start, but you can just start by roaming freely around the streets, canals, and passages. But make sure you find your way back to the Grand Canal. From that, you can start touring around the various attractions of the city.
1) St. Mark's Basilica (Basilica Di San Marco)
Over 900 years old, amazingly inspiring architecture, St Mark's Basilica is a world-renowned church and one of the most religious structures of Italy.
Location: Piazza San Marco.  It's easily reachable through the Grand Canal.
Attraction: It's Ornate details, Sculptures, Gold-Backed Mosaic Pictures, Mosaics by Titian and Tintoretto, Pala d'Oro – A golden altarpiece, Frescos and Byzantine artworks inside the domed ceiling.
2) St. Mark's Square
Surrounded by the elegant architecture on the three sides, St Mark's Square is loved more as a hangout place where people gather, stop to chat, meet their friends or pass by on their way to work. There are shops and cafes to drink coffee or shop.
Location: At the Grand Canal, opposite the island of San Giorgio Maggiore.
Attraction: Buildings including St Mark's Campanile, St Mark's Basilica, Doge's Palace and Torre Dell'Orologio are the main attraction points of this square. It would be a great idea to kick-start your tour of Venice.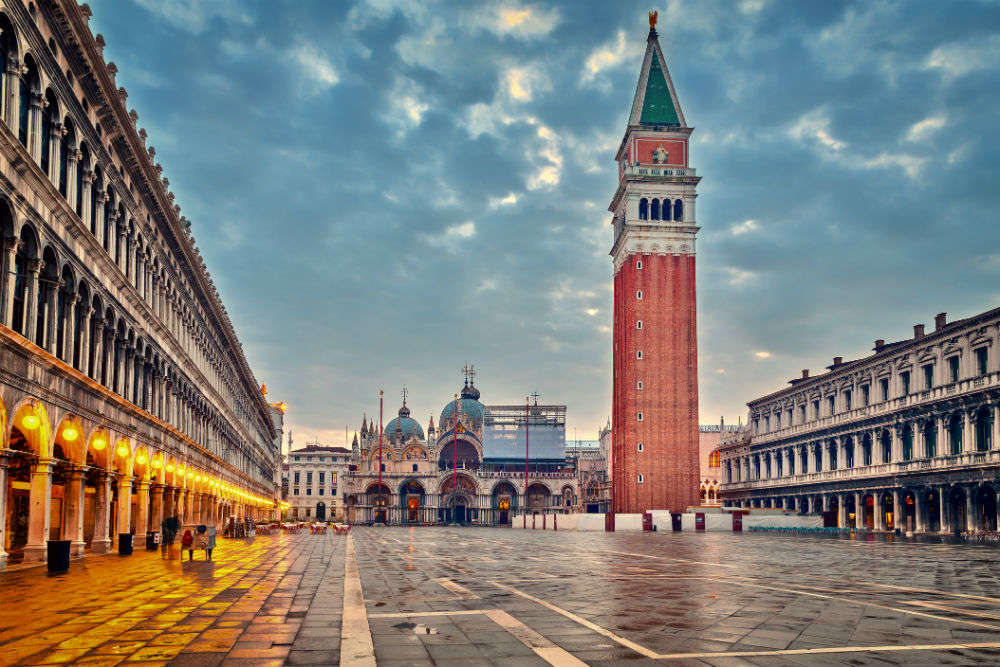 3) San Marco Campanile
San Marco campanile is an integral part of St Mark's Square. With a height of 98.6 m. the tower is the tallest structure in Venice. Built in the 9th century, collapsed and re-built in 1902, was made of simple red-brick design. But the top embraces a Golden Statue of Angel Gabriel.
Location: At St Mark's Square.
Attraction: You can have the best panoramic view of Venice by elevating to the top of the tower.
4) Canale Grande
Flowing in the middle of Venice, the reverse S-shaped canal is the Largest of all the canals that connect various islands of the city. Canale Grande or Grand Canal is 3.8 Kilometres long and only has 4 bridges to connect the city. But the Gondolas keep cruising back and forth at various stops.
Attraction: The Canale Grande connects Rail Station with a bridge from the mainland. I'd suggest you walk along the canal and admire the 13th century-old buildings and get mesmerized by river traffic.
5) Bridge of Sighs
The Bridge of Sighs may be very small in size, but one cannot ignore the fact that it's one of the most viewed monuments of Venice. You can have a view of the bridge while going to St Mark's Square.
Location: Over the Rio di Palazzo, the bridge is a connection between Prigioni Nuove and Palazzo Ducale.
Attraction: It is embarked with a history where prisoners were shifted to the dark cells of Prigioni from the Palazzo Ducale (Doge's Palace) where they could get a last view of the beautiful Venice before their upcoming imprisonment. You can also roam around the palace and the prison where a famous escape was initiated by Casanova.
6) Ponte di Rialto (Rialto Bridge)
Ponte Di Rialto is a bridge over the Grand Canal, very famous and one of the major tourist attractions. Originally built of wooden, but collapsed and re-built in 1524 by ornate stones stand till today.
Location: Over the Grand Canal, that connects the San Marco and San polo districts of Venice
Attraction: It's a favorite place for tourists posing for pictures with the beautiful background of the Grand Canal and over 150 years old buildings.
7) Gallerie dell'Accademia (Fine Arts Museum)
With an exclusive painting collection from the 15th and 18th centuries, the museum Gallerie dell' Accademia is also known as Accademia. It hosts the artworks of one of the greatest artists of all time including Da Vinci.
Location: OppositePonte dell'Accademia, near Grande Canale (Grand Canal)
Attraction: Greatest pieces of artwork including Vitruvian by Da Vinci, Resurrection by Tintoretto, St George by Andrea Mantegna, Portrait of Christ by Vittore Carpaccio, etc.
8) Murano
Murano is a collectible land of small islands of the Venice districts which are connected by the series of canals and bridges. Famous for Glass blowing Artwork, it has various Glass showrooms and studios including everything from cheap imported ornaments to luxurious artworks. Your Venice tour cannot be completed without riding a Vaporetto to Murano.
Attraction: Along with the several glass studios, it has other various attraction points like the 17th century Glass museum named Palazzo Giustinian, Church of Santa Maria, San Pietro Martire, Campo Santa Stefano, Scuola Dei Merletti and Palazzo da Mula.
9) Lido
When you get exhausted visiting places and want to get away from the crowd to relax, you can never find a place better than Venice Lido. Over 12 Km long sand strip is a barrier between the lagoons of Venice and the Adriatic Sea.
Location: It's a barrier between the lagoons of Venice and the Adriatic Sea.
Attraction: You can take a walk or rent a bicycle to wander around the beach filled with villas, hotels, restaurants, side streets, and residential areas. You can find your mental peace, after hovering around other busy places.
These were the major places for you to visit when traveling Venice, but not just these you can also visit other Churches, Museums and Islands like Scuola Grande Di San Rocco, Chiesa di Santa Maria Assunta, Ca' d'Oro, Peggy Guggenheim Collection, Basilica Di Santa Maria Della Salute, Santa Maria Gloriosadei Frari, Santa Maria Dei Miracoli, Palazzo Rezzonico, Torcello Island, The Arsenal and the Museum of Naval History, and San Giorgio Maggiore.
Best things to do in Venice
Along with traveling in Venice, there are many other things which you can experience only in Venice, be it riding Vaporetto or have a taste of Venetian cuisine. You just can't miss these things while you are on the trip.
1) Get lost in Venice
I know you might have planned and made an itinerary of your tour, but it's okay to do totally unplanned things. One such thing you can do is getting lost. Yes, get lost in the city. Fold your map, leave it at a hotel and wander around the streets. Hover the canals, hop on to the cafes for coffee or wine. Sit back, relax and enjoy the beautiful vibes this city brings in.
2) Ride Vaporetto in Grand Canal
You can't just afford to ignore a Vaporetto ride, when in Venice. Find your mental peace with a calm Vaporetto ride on Canale Grande (Grand Canal) where you can get amazed by the beauty of over 100-year-old buildings alongside.
3) Visit the Bridge of Sigh (from the outside)
I know, you've already read it before, but I am talking about visiting from the outside and not the one where you can enter via Doges Palace. You can visit there bypassing the canal that stretches to the eastern side of the Doges Palace. There is a small bridge too where you can go and have a look at such a beautiful view.
4) Panoramic view of Venice (from the top of San Marco Campanile)
Put your cameras on; you are about to witness the most beautiful view of Venice. Elevate yourself to the top of San Marco Campanile near St Mark's Square and find the most beautiful panoramic view of Venice and that too during sunset. It just can't be missed.
5) Visit Venetian Ghetto
This Jewish district of Venice was established in 1516 where the Venetian Republic restricted the Jews to this area of the city. Keep "Visit Venetian Ghetto" at the top of your to-do list as it has many synagogues (a place where Jewish meet for religious worship), Restaurants, A Museum, and Delicious Bakeries.
6) Try Aperitivo
Aperitivo is a drink made from bitter alcohol like Campari and Aperol. It's a traditional drink, which has Negroni, Spritz, and Americano as the 3 main options. Thus follow the locals, go to bars, have drinks and snacks and try out the traditional Aperitivo. It's called a quick and authentic Italian way of having Dinner.
7) Take a round trip to Murano, Burano, and Torcello
Murano: For Glass blowing factories, Burano: for Lace, and Torcello: for cathedrals are the 3 most famous Venetian Islands which deserve a visit. It's just a one day tour and in this one day, you can visit the glass-blowing factories and buy some beautiful glass products, at Burano you can just have a visit to the mini-replica of Venice and at Torcello, a cathedral of 7th century and the ruins of the baptistery.
8) Take a bite of Venetian Cuisine
Due to its specialty in serving high-quality Seafood, Venetian cuisine is famous all over Italy. Of which the Baccalà Mantecato is the Best Fish Dish. You can also try other delicacies like Goose, Lobster, and Meatballs. Along with the food, you can also visit Veneto where some of the best vineyards in Italy exist.
9) Shop
Yay, the favorite Part! Yes, everyone loves shopping. Everyone loves to take back something as a memento. Venice too has few things that shopaholics can't deny. Leather Shoes or Bags and Cashmere are easily available in many shops in the market. And yeah, don't forget to take along the Venetian masks as a memento of the trip. And for those who fantasize about Venice carnival's full outfits, they are also available at special shops.
Apart from these things, you can also visit other famous Art museums like Peggy Guggenheim Collection which hosts the art pieces of 20th century's most influential European and American Artists.
Things to Avoid in Venice
1) Don't Buy Cheap Masks –
Don't be fooled by buying cheap masks you find anywhere on the streets, they are mainly imported from China and are a disgrace to the real art form. Keep in mind, if it's cheap, it not authentic. The same thing goes while buying those Murano Glasses.
2) Don't Visit in High Season-
As I already mentioned, any time would be good for Venice but summer. In summer the temperature increases along with hundreds of other tourists. There are smells and mosquitos everywhere and Sewer systems will lose their capacity to handle so many people. The prices are also high at this time, so you will have to pay more and wait more due to the rush while visiting restaurants, churches, museums, etc.
3) Avoid exploring Venice midday (as less as possible)-
Venice is at its best before the crowds knock up. Waking up early and see Venice rise to life in the morning is something you can never forget. The streets get crowded by 10 in the morning and are loaded till late at night.
4) Don't stay for just 1 day-
Venice may be just a city, but believe me; it has a lot more to offer than just one day of your trip. It has so beautiful museums and churches of centuries' old historic art that 1 day wouldn't be enough to give to Venice.  You should at least stay a couple of days to explore every bit of the city and also experience the nightfall and sunrise of the city.
5) Avoid Riding Gondolas-
Riding Gondolas up and down of the canals, while someone playing music behind may seem like a dreamy stuff, but believe me it doesn't feel as dreamy as it seems. First of all, a single 30 minutes ride of Gondola will cost you $90 and that too gets increased after 7.00 PM. Thus, if you seriously want to have that experience, you are good to go. But if you only want to do it for the sake of Photographs or Social media show-offs, then it's not worth it.
6) Don't get fooled by restaurants-
Venice may have everything that we dream of, but it's never been part of Italy's world-renowned Food Family. Never go to the restaurants where,
1) An employee outside is calling visitors to their restaurants.
2) The menu is in different languages.
Moreover, you must read reviews about the place where you want to go and check out the menu before you just go and sit, because, in spite of you eating there, the restaurant may eat up all your money.
7) Avoid ordering Pizza-
As the Woodfire ovens are banned in Italy, there would nothing special in the pizzas you eat there, hence avoiding this Italian staple would be better.
8) Never pack HEAVY LUGGAGE-
*Read twice* Packing heavy luggage can turn out to be your worst nightmare. Reasons are
There are no cars in Venice where you can just throw in your luggage and reach to your hotel, you will have to walk or take a boat. Even if you take a boat, you will still have to walk the distance between the dock and your hotel.
You can reach out directly to your hotel, but in the water taxi which costs you 18 Euros upfront and 1.8 Euros for every minute. Along with that, boarding luggage might cost you extra.
End Note
Due to the lower number of visitors, the Museums and Galleries would remain closed on Monday. If you are willing to visit Venice when the crowd is at the lowest numbers, then January would be the perfect time to visit Venice. There are many great hotels to stay in Venice, but I recommend you to stay in a hotel which is enriched with Italian and Venetian culture, that gives you authentic vibes. Happy Roaming!